Robert F. Kennedy Jr 'Thinking About' Launching Democratic Challenge to Biden for 2024 White House Nomination
By Thomas Phippen, Paul Steinhauser | Fox News
Robert F. Kennedy Jr. is considering running for president in 2024, challenging President Biden for the Democratic nomination, and he says his wife approves.
"I am thinking about it yes. I have passed the biggest hurdle, that my wife has greenlighted it," Kennedy told a crowd in New Hampshire on Friday, according to reports.
Kennedy's wife, actress Cheryl Hines, was reportedly attending the speech at the New Hampshire Institute of Politics, which for nearly a quarter-century has been a must stop in the Granite State for potential or actual White House contenders.
Kennedy, the son of the late Sen. Robert F. Kennedy and the nephew of the late President John F. Kennedy, describes himself as a lifelong Democrat and has faced criticism for his activism against the COVID-19 vaccine.
When asked whether he is considering a run for president, RFK Jr responded, "I am thinking about it. I've passed the biggest hurdle which is that my wife has green lighted it."#NHPolitics

— Caroline McCaughey (@TheCarolineMc) March 3, 2023
In his speech, he called the Democratic National Committee (DNC) decision to upset the presidential nominating calendar wrong, as it moves New Hampshire's primary from the first place into the third.
New Hampshire, which prides itself on its well-informed electorate and its emphasis on small-scale and grassroots retail politics, has for a century held the first primary in the race for the White House. While Republicans are making no changes to their presidential nominating calendar in the 2024 election cycle, the DNC last month voted overwhelmingly to approve a new top of the calendar, pushed by Biden, that upends the traditional schedule.
New Hampshire will now vote second in the DNC's calendar, along with Nevada, three days after South Carolina, under the new schedule.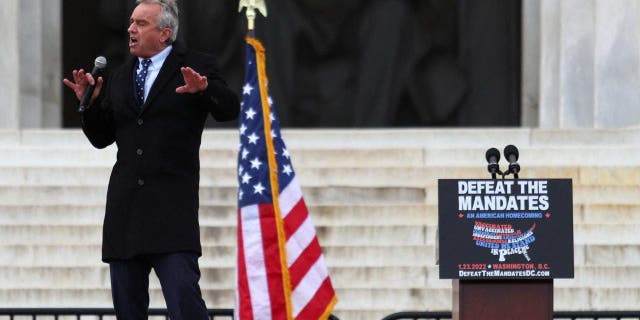 Robert F. Kennedy Jr. said he is considering running for president in 2024.
Ahead of the DNC's final approval of the schedule, Kennedy wrote an open letter to the committee, urging members to keep New Hampshire in the first spot because of the state's long history advocating for civil rights and election transparency.
The DNC changed the nominating calendar in an effort to reflect more diversity in the Democratic Party, but Kennedy said that New Hampshire already showcases the diversity in America. As a swing state, Kennedy said, New Hampshire's "four electoral votes could decide the 2024 election."
"Most importantly, New Hampshire runs the most secure and transparent election in America. It should be a model for our country at a time when we need it most," Kennedy wrote.
Granite State Democrats warn that New Hampshire will still go first — courtesy of a longstanding state law that mandates the leadoff primary position — and that a primary not sanctioned by the DNC, where Biden doesn't take part, could invite trouble for the president.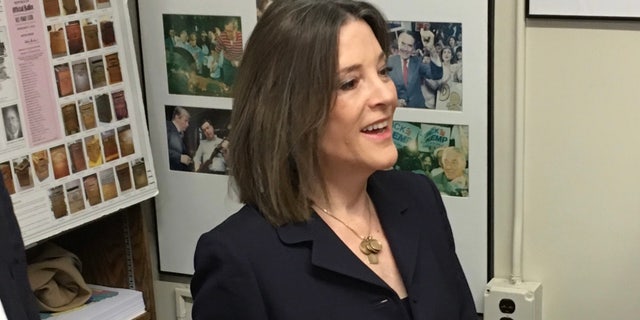 Democratic presidential candidate Marianne Williamson files to place her name on the 2020 New Hampshire primary ballot, at the Statehouse in Concord, N.H. in November 2019 
In addition to Kennedy's potential run, Biden faces a similar long-shot challenge for the Democratic nomination from spiritual advisor and self-help guru Marianne Williamson, who announced that she would launch another run for the Democratic Nomination after a visit to New Hampshire. Williamson ran a White House campaign in 2020 before dropping out of the race before the first caucuses and primary elections that cycle.
Williamson is expected to formally launch her campaign at a speech Saturday in Washington, D.C.
Biden has not formally launched a 2024 campaign, but he has stated numerous times that he intends to run for president again.